Photo Gallery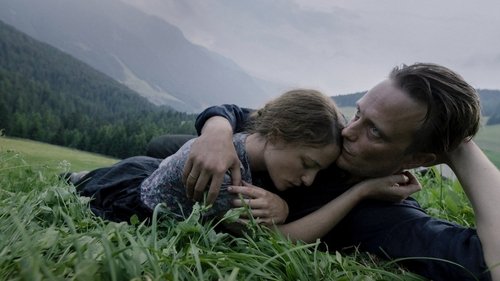 Let the seasons begin-it rolls right again/Let the seasons begin-take the big game down🎶 #drawing #sketch #beirut #elephantgun #ahiddenlife
The 72nd Cannes Film Festival lineup has been unveiled, featuring new films from Terrence Malick, the Dardennes, Bong Joon-ho, Jim Jarmusch, Jessica Hausner, Arnaud Desplechin, Pedro Almodóvar, Corneliu Porumboiu, Mati Diop, Ken Loach, Ira Sachs, Marco Bellocchio, Abel Ferrara, Werner Herzog, Xavier Dolan, and many more. Explore at the link in bio. #TerrenceMalick #AHiddenLife #Radegund #Cannes #Cannes2019 #CannesFilmFestival
#AHiddenLife Malick is back in competition! * * * #Cannes2019 #filmfestival #TerrenceMalick #GermanFilm #AmericanFilm #Competition #Drama #WorldWarTwo #Germany #Austria #Film #Cinema #Movie
It's official: Terrence Malick's A HIDDEN LIFE is set to premiere at the 2019 @festivaldecannes and will compete for the Palme d'Or 📽 👏🏽 #cannes #terrencemalick #cannesfilmfestival #cannes2019
The Cannes Film Festival just announced its 2019 lineup! Expectations skyrocketing for Terrence Malick's A HIDDEN LIFE, starring the one and only Matthias Schoenaerts. #matthiasschoenaerts portrait by @fabricedallanese @festivaldecannes @__zenith______ #festivaldecannes #cannes2019 #terrencemalick #yeswecannes #staytuned
Terrence Malick's "A Hidden Life", which tells the true-life story of Austrian Franz Jägerstätter, who famously was a conscientious objector and refused to fight for the Nazis during World War II, will premiere at the Cannes Film Festival. Casting: Anja Dihrberg (BVC). #terrencemalick #seventhartstudio @studiobabelsberg #cinema #cannesfilmfestival #cannes2019 #competition #movie #casting #palmdor @bundesverbandcasting
#Cannes2019 reads like a who's who of auteur cinema. One of the best directorial lineups ever. Very exciting for @luminousartsproductions that the photography of #JörgWidmer (our DOP) & direction of #TerrenceMalick (our executive producer) are in the official competition with A HIDDEN LIFE #ahiddenlife
¡Estas son 10 de las 19 películas seleccionadas para el festival de Cannes de 2019! 1. 'Dolor y gloria' de Pedro Almodóvar 2.'Parasite' de Bong Joon-Ho 3. 'Little Joe' de Jessica Hausner 4. 'A hidden life' de Terrence Malick 5. 'The dead don't die' de Jim Jarmusch 6. 'The traitor' de Marco Bellocchio 7. 'Les Misérables' de Ladj Ly 8. 'Matthias and Maxime' de Xavier Dolan 9. 'Frankie' de Ira Sachs 10. 'Sorry we missed you' de Ken Loach ¿Has visto alguna? . . . #cannes #festival #filmfestival #filmfest #DoloryGloria #parasite #littlejoe #thedeaddontdie #thetraitor #lesmiserables #matthiasandmaxime #frankie #sorrywemissedyou
Terrence Malick is returning to Cannes for the first time since winning the Palme d'Or with "The Tree of Life." Here's a new look at #AHiddenLife. Click link in bio for #Cannes2019 lineup.
Terrence Malick's 'A Hidden Life', which tells the true-life story of Austrian Franz Jägerstätter, who famously was a conscientious objector and refused to fight for the Nazis during World War II, will premiere at the Cannes Film Festival. Casting: Anja Dihrberg (BVC). #joelbasman Wir drücken die Daumen! #terrencemalick #cinema #cannes2019 #movie #cinema #palmdor #france
Premiering on Sunday 19th May at @festivaldecannes Terrence Malick's new film A HIDDEN LIFE. - Based on real events, A HIDDEN LIFE is a story of an unsung hero, Franz Jägerstätter, who refused to fight for the Nazis in World War II. When the Austrian peasant farmer is faced with the threat of execution for treason, it is his unwavering faith and his love for his wife, Fani, and children that keeps his spirit alive. - #terrencemalick #cannes #cannesfilmfestival #director
A HIDDEN LIFE by Terrence Malick in Competition #Cannes19 #AHiddenLife #TerrenceMalick
Terrence Malick's long-in-the-works WWII drama 'Radegund' has a new name: #AHiddenLife. The filmmaker has been working on the film for over two years now, which has led many to believe he's finally ready to unveil it at Cannes Film Festival. Link in bio for more details.
Oh Ganz. #AHiddenLife #Cannes2019 #filmfestival #cinema #film #movie #war #drama #TerrenceMalick #AugustDiehl #BrunoGanz
"Days of Heaven" Dir. Terrence Malick (1993) Paramount Pictures. The 2019 Cannes lineup has been announced, and Malick's new film "A Hidden Life" will be there! His wonderful masterpiece "Days of Heaven" premiered there in 1978, where it won Best Director.
#tanyazbilifineart
'A Hidden Life' (2019) Drama, War, Biography, Based on the true story, Religion Director: Terrence Malick Writer: Terrence Malick Cinematographer: Jörg Widmer Music: James Newton Howard Editors: Rehman Nizar Ali, Joe Gleason, Sebastian Jones Cast: August Diehl (Franz Jägerstätter), Valerie Pachner (Franziska Jägerstätter) Michael Nyqvist, Matthias Schoenaerts, Jürgen Prochnow, Bruno Ganz, Alexander Fehling, Ulrich Matthes, Karl Markovics, Franz Rogowski, Tobias Moretti, Martin Wuttke . It seems almost impossible for anyone to boycott fighting for their country because of their own belief. If you chose being a conscientious objector during the World War II despite of being an Austrian, you would face a severe attack by your compatriot community. . The Austrian Franz Jägerstätter chooses to be a conscientious objector and refuses to fight for the Nazis during World War II. He tries to live a self-sufficing life with his wife Franziska in nature. . The concept of returning to the Mother Nature is theme that director Terrence Malick has pursued throughout his lifetime. It certainly should be a lifelong ideal for every side of our life and our society. But on the other hand, at this time we cannot go back on the road of human history. We are too greedy, too selfish, too arrogant to be humble in front of the nature and to harmonize with the nature. In addition to that, we are so stupid that we cannot give up the war. . There are great gap and friction between our ideal and the reality. But ironically, they give a birth to great art. The unreasonable and fearful times while Nazis had huge power over Europe made enormous gap and horrible friction between ideal and reality. I'm interested in the reason why Franz Jägerstätter completely refused all of reality. In a sense, he turned his back on all humans and human nature. When times didn't allow humans to pursue their ideals, Franz said "No" to times and history and tried to find his ideal in the nature. I think he might be the bravest idealist. . It isn't difficult to imagine that Terrence Malick would have deeply sympathized with Franz Jägerstätter's belief. . #Cannes2019 #AHiddenLife #TerrenceMalick #FranzJägerstätter
And the countdown begins. So eager to see Malick's "A Hidden Life" at Cannes. ⭐️ Who else is going to the fest? Message me! ⭐️ #Malick #cannes2019 #cannes #film #cinema #filmmaking #writer #director #storyteller #visual #poetry #artist #art #story #meaning #connection #love #life
There is solid love under our pain, Christ our Redeemer. First off, the book is incredible. Do your soul a favor and read it. Secondly, last night, while studying Matthew 27 with our small group, @calebb78 said something along the lines of this, "Satan has spent his entire existence trying to get you to numb your pain instead of taking and trusting your pain to God." (Caleb, feel free to re-quote yourself if you can remember it better!) How much truth we see in this in our own lives and the lives of those around us. We think we have to escape or ignore or get rid of the pain- yet God. As Jesus was led to the cross, unwilling to take anything that might numb His own pain (Matthew 27:34), He lived out the reality that no earthly suffering is greater than the glory that awaits. There is nothing that can happen on this side of heaven that can take away the eternal HOPE that is found in Christ. NOTHING. Our suffering can be good when it is entrusted in the hands of our Sovereign Father who promises to use all things for good and glory. May we not spend our time on earth avoiding trials or clinging to comfort; and instead, might we seek the One who is using all the details for a greater reality that awaits. Only by His grace is this made possible. #hishandshisfeethisheart
Cannes Film Festival 2019: Official Selection Film Lineup - A HIDDEN LIFE, TOO OLD TO DIE YOUNG, PARASITE, & More. Read the Full Article here: https://film-book.com/cannes-film-festival-2019-film-lineup-a-hidden-life-too-old-to-die-young-parasite/. Visit our Patreon page, consider becoming a patron, and help support our content: https://www.patreon.com/FilmBook. The hashtags for this posting: #AHiddenLife #BongJoon-ho #CannesFilmFestival #FilmFestival #NicolasWindingRefn #Parasite #TerrenceMalick #TooOldToDieYoung
Ricordi dal set 2016 #set #film #storia #bmw #sidecar #cannesfilmfestival #wehrmacht
#Cannes2019 reads like a who's who of auteur cinema. One of the best directorial lineups ever. Very exciting for @luminousartsproductions that the photography of #JörgWidmer (our DOP) & direction of #TerrenceMalick (our executive producer) are in the official competition with A HIDDEN LIFE #ahiddenlife
#tbt #altoadige #dawn #filmmaking #ahiddenlife
• But we believe – nay, Lord we only hope, That one day we shall thank thee perfectly For pain and hope and all that led or drove Us back into the bosom of thy love. — George MacDonald, A Hidden Life and Other Poems • #love #hope #faith #life #story #mother #daughter #eternal #bond #relationship #journey #quotes #poetry #poems #authors #georgemacdonald #godwithus #authors #peacebewithyou #allshallbewell #lifeisagift #mothersday #generations #remembrance #memory
#wattpad #wattpadgallery #wattpadstories #wattpadstory #wattpadbooks #wattpadquotes #wattpadahiddenlife #hiddenlife #hidden #life #heartbroken #depressed #lonely #leftalone #ditched #darkness
One of the most prestigious film festivals to commence in 2 days. 2019 Cannes Film Festival 14 May - 25 May 2019. #cannesfilmfestival #cannes #filmfestival #films #movies #onceuponatimeinhollywood #quentintarantino #thedeaddontdie #jimjarmusch #matthiasandmaxime #xavierdolan #terrencemalick #painandglory #pedroalmodovar #rocketman #dexterfletcher
#repost @indiewire ❤️❤️❤️ ・・・ Terrence Malick is returning to Cannes for the first time since winning the Palme d'Or with "The Tree of Life." Here's a new look at #AHiddenLife. Click link in bio for #Cannes2019 lineup. #cinema #movies #love #terrencemalick #cannes #art #film #author
Mentor and friend! Love this news! #cannes #cannes2019 #filmfestival #terrancemalick #amazing #congratulations #bringiton #redcarpet #genius #producer #femaledirector #cannesfrance #cannesfilmfestival
Yoohoo! Terrence Malick's next feature, A Hidden Life, is among the line-up for this year's Cannes Film Festival!! 👏👏👏. The film, initially titled Radegund, centers on Austrian Franz Jagerstatter, a conscientious objector who refused to fight for the Third Reich in World War II and was executed by them through the Guillotine in 1943. #terrencemalick #augustdiehl #valeriepachner #cannesfilmfestival
A Hidden Life: Trailers and Videos
While Cleaning His Office, This Man Found A Hidden Painting That Would Change His Life
Dynasty | Gacha Life Music Video
HIDDEN TEACHINGS Of JESUS CHRIST On Consciousness \u0026 Manifesting - What They DON'T Want You To Know!!
Family of Four (Family, Drama, HD, English Film) free movie on youtube
Inside an $88M Bel Air Mansion with a Hidden Car Elevator | On the Market | Architectural Digest
HACKER is Missing in Real Life! (Hidden Camera Reveals the TRUE identity of Game Master)
100-YEAR-OLD TIME CAPSULE WAS FINALLY OPEN!
The First Game Master Network Meeting in Real Life!
Terrence Malick - Une vie cachée (A HIDDEN LIFE) / first images Cannes 2019
HIDDEN ARTIFACT - Unturned Life Roleplay #419
A HIDDEN LIFE - First clip
THE EVENT THE RETURN OF THE LEMURIANS! PLEIADIAN LIGHT FORCES TRANSMISSION 5112019
WE FOUND A HIDDEN SAFE #24 BOAT LIFE
The Hidden Life of Spark Jobs
Exploring Hidden Swimming Hole with my Girlfriend!!(Florida Swamp)
5 HIDDEN life lessons you can learn from Game of Thrones
Totally CLEAR OnePlus 7 Pro! - Hidden Front Camera Revealed!
When His Wife of 50 Years Died This Man Discovered a Letter She Kept Hidden Their Whole Lives
The First Game Master Network Meeting in Real Life!
HIDDEN TEACHINGS Of JESUS CHRIST On Consciousness \u0026 Manifesting - What They DON'T Want You To Know!!
How to Make a Secret Room (Through a Wardrobe)
Inside an $88M Bel Air Mansion with a Hidden Car Elevator | On the Market | Architectural Digest
PEOPLE WHO FOUND SECRET ROOMS
THE SECRET LIFE OF PETS 2 - 16 Minutes Clips + Trailers (2019)
Ampav : Breaking through together...