ヒーローママ★リーグ Photo Gallery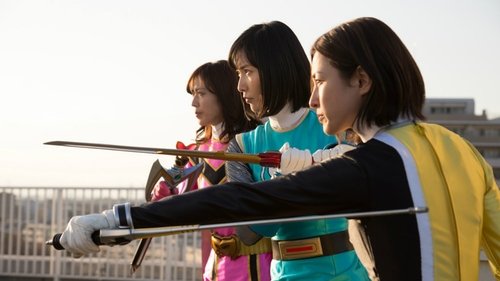 Hero Mama League... It will be showing by next week... This will be also a prequel of the upcoming #VCinext Of #KyurangerVsSpaceSquad ... #HeroMamaLeague #dekaranger #Hurricanger #Magiranger #SuperSentai
Ready for the return of Blue Hurricane, Yellow Dekaranger, & Pink Magiranger? You guessed it. It's the next rendition of Power Rangers BUT...with a twist. The "Hero Mama League" will feature ex-rangers that are kickbutt moms fighting crimes (while balancing motherhood). For Power Rangers fans of the early 2000's, you might remember these rangers from the "Super Sentai" seasons. No doubt these Power Ranger moms can get their kids to clean their rooms! #smartgirls #powerrangers #heromamaleague
Introducing Hero Mama League, an online special focusing on three major ladies from sentai shows past! All three women will reprise their roles as former sentai heroes turned moms who must now balance the dual responsibilities of motherhood and saving the planet from the mysterious Space Shinobi Demost! Are you excited for #HeroMamaLeague? ⚡ • • • • • • • • • #SuperSentai #PowerRangers
This brings me so much joy lol #supersentai #nanaminono #nononanami #hurricaneblue #ninpuusentaihurricaneger #hurricanger #jasminereimon #reimonjasmine #marikareimon #reimonmarika #marikajasminereimon #dekayellow #tokusousentaidekaranger #dekaranger #houkaozu #ozuhouka #magipink #mahousentaimagiranger #magiranger #supersentaireturn #sentaiheroine #mothers #sentaimothers #sentaiteamups
#HeroMamaLeague
Toei announces the #HeroMamaLeague web special, starring Beppu Ayumi (Magi Pink) Nagasawa Nao (Hurricane Blue) and Kinoshita Ayumi (Deka Yellow)! The ladies don't seem to age, especially Nagasawa and Kinoshita. ?
#repost @tokusatsu_korea I can't wait to see this!! #supersentailadies #heromamaleague
@tawadahideya will appear in , but not as Kinji Takigawa (Starninger), but as a kindergarten teacher named Hiroto. That's what I heard. Anyway,wait for the latest update. #heromamaleague
Mommas dat protec the world #supersentai #powerrangers #toku #tokusatsu #tokufans #spacesquad #tokumemes #toei #heromamaleague
Meet the enemy and they will face in both shows... His name is Space Ninja Demost. He came from the Dark star and He was imprisoned underground at Mount Kongo by Jiraiya's ancestor, but escapes from his prison as a result of the change in the Earth's crust caused by Jiraishin's resurrection. He obtains the Dark Sword (暗黒剣 Ankoku Ken), a laser blade equivalent to Jiraiya in terms of strength. His head can detach itself from the rest of his body and float in the air, as well as be restored after being destroyed once. He can attack and bind his enemies with electric shocks from his hands and his face, as well as read his opponent's mind. (Source Wikipedia) He is one of Jiriaya enemies but he was destroyed and now he is back in this era... What's the goal... We will find out? #KyurangerVsSpaceSquad #HeroMamaLeague #kyuranger #SpaceSquad #Hurricanger #Dekaranger #Magiranger #SpaceSquad #MetalHeroes #SuperSentai
Hero Mama League Spin-Off Trailer #スーパー戦隊 #SuperSentai #HeroMamaLeague #NinpuuSentaiHurricanger #TokusouSentaiDekaranger #MahouSentaiMagiranger #ShurikenSentaiNinninger
Hero Mama League!! Very interesting. #dekayellow #tokusousentaidekaranger #magipink #mahousentaimagiranger #ninpuusentaihurricanger #hurricaneblue #supersentai #tokusatsu #superherotime2004 #superherotime2005
Trailer Hero Mama League #HeroMamaLeague #SuperSentai #Dekaranger #Magiranger #Hurricanger #DekaYellow #AyumiKinoshita #HurricaneBlue #NaoNagasawa #MagiPink #AyumiBeppu #SpaceSquad #KyurangerVSSpaceSquad #Tokusatsu #SuperheroMAXID
Hero Mama League ? #magipink #hurricaneblue #dekayellow #heromamaleague
Trailer Kyuranger Vs Space Squad, Hero Mama league terdiri dari MagiPink, HurricaneBlue dan DekaYellow Sc : http://ukiyaseed.weebly.com/ukiyaseeds-other-blog/kyuranger-vs-space-squad-hero-mama-league-trailer-streamed #Kyuranger #SpaceSquad #uchusentaikyuranger #sentai #supersentai
Hero Mama ★ League: Trailers and Videos
Fakta Tentang Super Sentai Hero Mama League 2018 New !!!! By BRAVE CHANNEL #1
MAMÃES DO TOKUSATSU [ヒーローママ★リーグ] | Senpuu LIVE Action
Super Sentai Heroines Balance Action and Motherhood in 'Hero Mama League'
Mamás al rescate: Hero Mama League !!!!
MAMÃES DO TOKUSATSU [ヒーローママ★リーグ] | Senpuu LIVE Action
MAMÃES DO TOKUSATSU [ヒーローママ★リーグ] | Senpuu LIVE Action
Super Sentai Heroines Balance Action and Motherhood in 'Hero Mama League'